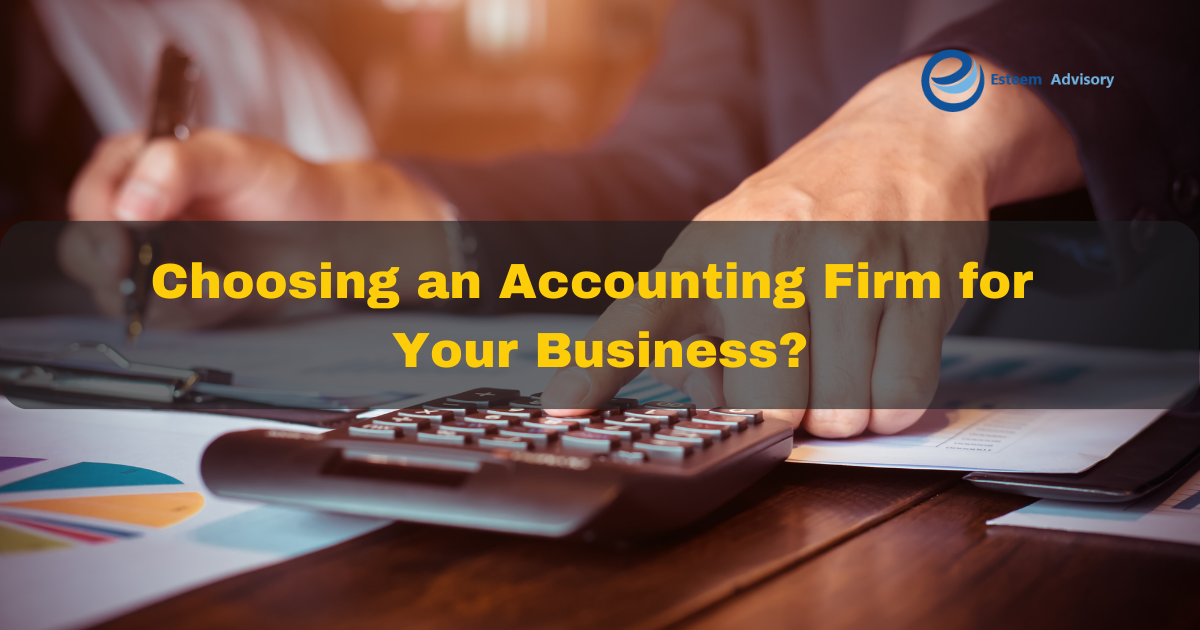 When it comes to managing the finances of your business, choosing the right accounting firm is critical. The right firm can help you save time and money, stay compliant with regulations, and provide valuable financial advice. Here are some key factors to consider when Choosing an Accounting Firm for Your Business.
Expertise and experience: The first thing to consider when choosing an accounting firm is their expertise and experience. Look for a firm with experience in your industry and a team of qualified professionals, including certified public accountants (CPAs) and tax specialists.
Services offered: Consider the services offered by the accounting firm. Do they offer bookkeeping, tax preparation, payroll management, financial planning, and other services you may need? Look for a firm that can provide a comprehensive range of services to meet your specific needs.
Technology: It's important to consider the technology used by the accounting firm. Look for a firm that uses modern accounting software and technology to streamline processes, increase efficiency, and provide real-time financial data.
Communication and availability: Communication is key when working with an accounting firm. Look for a firm that is responsive to your needs, and communicates regularly and clearly. Ensure that the firm is available to answer your questions and provide support when needed.
Reputation: Look for an accounting firm with a solid reputation in the industry. Check their online reviews, testimonials, and ratings from past and current clients. A firm with a good reputation is more likely to provide high-quality services and meet your expectations.
Cost: Finally, consider the cost of services offered by the accounting firm. Look for a firm that offers competitive pricing and provides a clear pricing structure with no hidden fees.
read our guide on Cash Flow Advice for Small Businesses. It will help you in long run.
Reasons why Esteem Advisory might be a good fit for your needs:
Industry expertise: It's important to work with an accounting firm that has expertise in your particular industry. At Esteem Advisory, we have experience working with a wide range of businesses across various sectors, including manufacturing, real estate, construction, and professional services. Our team of accounting professionals understands the unique challenges and opportunities that businesses in these industries face and can provide tailored solutions to help you achieve your goals.
Comprehensive services: In addition to traditional accounting and bookkeeping services, we offer a wide range of specialized services to meet the needs of our clients. These include tax planning and preparation, financial statement preparation, audit and assurance services, business advisory services, and more. By working with Esteem Advisory, you can access a full suite of financial services to support your business.
Technology-driven solutions: At Esteem Advisory, we leverage the latest technologies to provide efficient and accurate accounting services. We use cloud-based systems to streamline data entry and reporting, and we offer a range of accounting software solutions to help you manage your finances more effectively. By working with us, you can access cutting-edge financial tools to improve your business processes and outcomes.
Personalized attention: We believe in building strong relationships with our clients, and we work closely with each business owner to understand their unique needs and goals. We provide personalized attention and support throughout the accounting process, and we are always available to answer questions and provide guidance. By working with Esteem Advisory, you can feel confident that your financial needs are being met by a team that truly cares about your success.
Proven track record: Finally, at Esteem Advisory, we have a proven track record of delivering high-quality accounting services to businesses of all sizes. We have worked with numerous clients across a range of industries, and we have a reputation for excellence in our field. By choosing Esteem Advisory, you can feel confident that you are working with a trusted and experienced partner for your financial needs.
In conclusion
Choosing an Accounting Firm for Your Business is a critical decision. By working with Esteem Advisory, you can access a range of specialized services, cutting-edge technologies, and personalized attention to help you achieve your financial goals. Contact us today to learn more about how we can support your business!